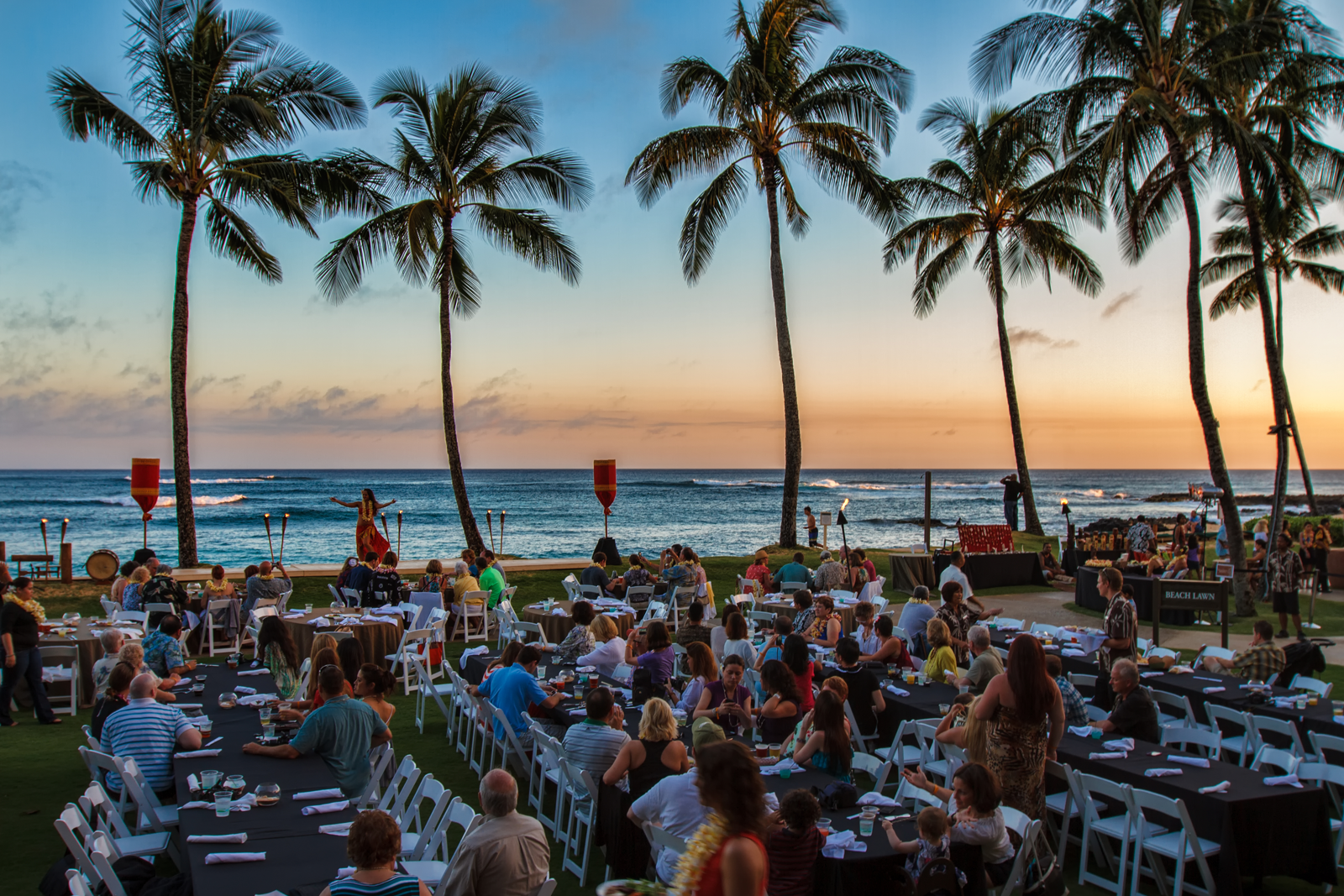 Kauai's only oceanfront luau | poipu beach, hi
THE SAND IS WARM; THE MAITAIS ARE COLD. BUT SEATS ARE LIMITED IN THIS INTIMATE AND AUTHENTIC LUAU, SO MAKE YOUR RESERVATION NOW. YOU WON'T WANT TO MISS THE ONO HAWAIIAN FOOD AND SPECTACULAR AULI'I DANCERS AT KAUAI'S ONLY OCEANFRONT LUAU.
Come, the tiki torches are alight!
It's twilight and the fading tropical sun is bidding welcome to the stars teeming in the Polynesian night-sky, reminding you that you're on an island garden anchored in the middle of the Pacific Ocean.
Experience new and tempting tastes of Polynesia while you behold the hula dancers of award-winning Urahutia as they bring to life the storied past of old Hawaii. Thrill as the pahu drums throb to the pulse of the surf only yards away as the Aulii's Fire-Knife Dancers take the stage and electrify the night with their whirling torches, as you sip a delicious cocktail and savor the finale and say to yourself, "This is why I came to the Islands."
Phone
(808)-634-1499
Location
Sheraton Kauai
2440 Hoonani Rd
Koloa, HI 96756
Hours
M & Th 5:30pm - until the drinks stop flowing
The Performance
Leave the fake lei and plastic grass skirts in Waikiki! Authenticity and passion for Polynesian dance are the hallmarks of award-winning Urahutia Productions. The romance and allure of Polynesia are so near your table you'll feel the heat from the fire knives!
the menu
There's more to Hawaiian food than fish and poi. Hawaiians perfected Pacific Rim fusion ages before it became all the rage in LA. Sample the succulent delicacies of Paradise, from slow-roasted pig to melt-in-the-mouth slabs of poke...As the locals say, "Broke da' mouth!"
The Setting
This is what you came to the Islands for! To sit on the warm sandy shore of a tropical beach and breath deep the tang of the crashing breakers, gazing at the setting sun with a chilled drink in your hand and the velvety tradewinds tousling your hair. There's no better place on Kauai than Poipu Beach to be as night falls and the sun chases the dateline ever westward.